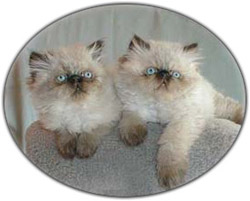 Contact us
PJ Purrs Himalayans
Paul & Judy Guenther
Clarkston, Washington
509-758-3088

email: pguenthe@clarkston.com

Reserve a kitten
Waiting list: We usually have a waiting list for our kittens, and ask for a deposit to reserve your special kitten at around six to eight weeks of age. Deposits securing a kitten are taken in good faith with the understanding that they are not refundable if the prospective purchasers simply change their mind. However, monies will be refunded immediately if the seller (breeder) decides not to sell for any reason, such as a health issue with the reserved kitten.
Guarantee: All kittens are sold with a Health Guarantee and immunizations. We will ship domestically, but only if acceptable flights are available that will not be too stressful for the kitten.
CFA registration: if a kitten is sold as a Pet, registration papers will be delivered after valid notification of altering. If sold as a Breeder, registration papers will be delivered at time of purchase.
*Please note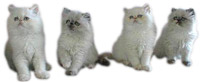 If you are interested in one of our kittens, please understand that we are looking for INDOOR homes for them. We welcome contacts from prospective owners to discuss the needs of our special babies. A Himalayans' long hair requires at minimum weekly maintenance; some require their eyes to be cleaned daily. If you do not have time to comb and brush your cat, you may want to consider a shorthair. However, if you are willing to devote the time and care these kittens need, you'll find them beautiful and rewarding companions.